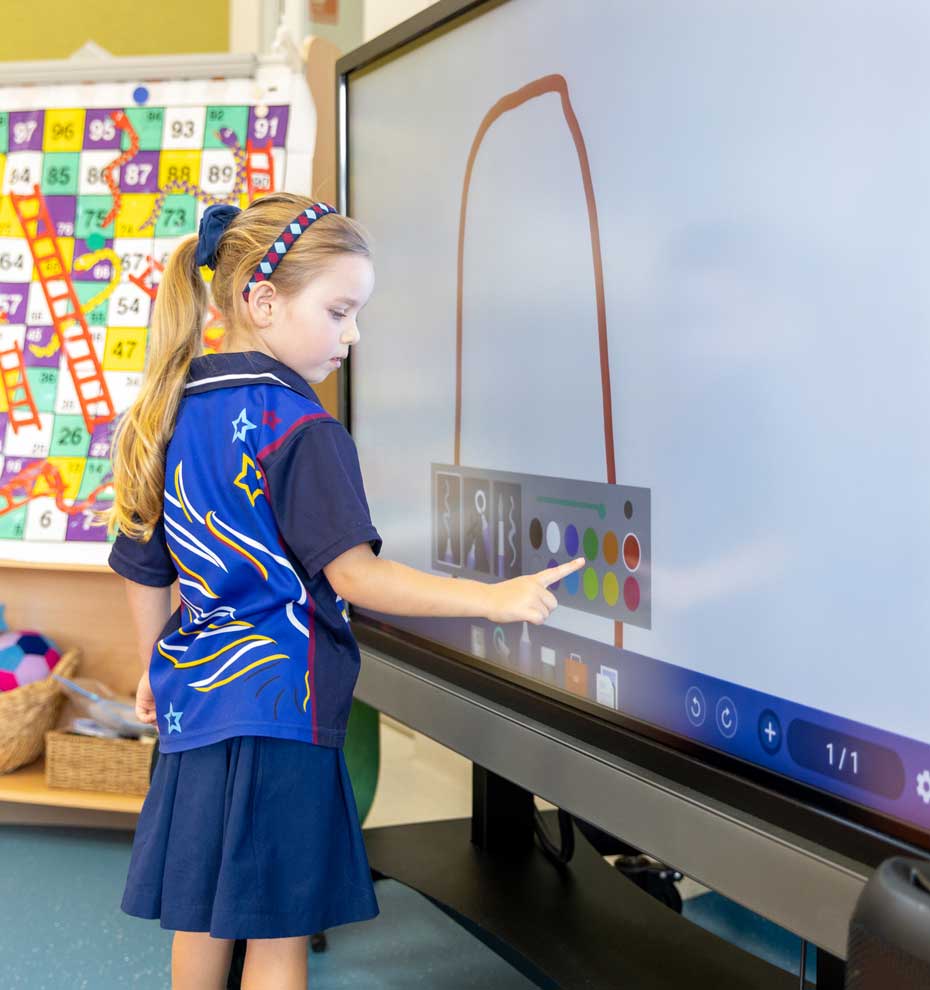 Our Junior School grounds are immersed in the natural environment with quality buildings, exciting resources, an engaging curriculum and many additional opportunities that align with your child's emerging sense of self.
Each phase of your child's development is uniquely provided for and our school remains committed to your child's wellbeing and learning journey throughout this phase of education and discovery.
The Junior School is well resourced with a high-quality programme, access to IT & technology, swim and surf awareness programs and an exceptional staff that unerringly supports your child throughout their learning journey.
Prep
Caloundra City Private School's high-quality Prep program provides children with firm foundations for a love of life-long learning in a welcoming and nurturing environment. Prep can be a challenging time for some students, at Caloundra City Private School we ensure that your child is welcomed and secure as they set about this first formal phase of learning.
Our expert teaching team is comprised of early childhood classroom teachers, alongside specialist Japanese, Music, HPE and Library teachers. Together, they provide exceptional learning experiences for our Prep students and support each individual child's development to ensure a strong start to their learning journey.
Our Prep program offers;
A designated area within the campus for safety.
Specialist lessons and teachers; music Japanese, PE, art & more.
School Buddy system, older students welcome younger students, do activities and help to build confidence so that our 'preppies' are eased into school life.
Access to digital learning aids such as Mac Desktops, Ipads with access to IT support and guidance.
Interactive Smart Boards.
Teacher and teacher's aide.
Spacious, light, well-ventilated classroom with audio instructional solutions.
Indoor and Outdoor learning areas that are integrated with the natural world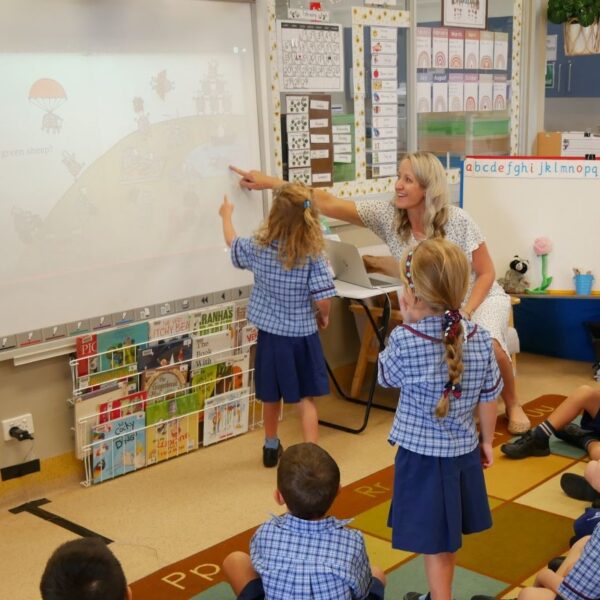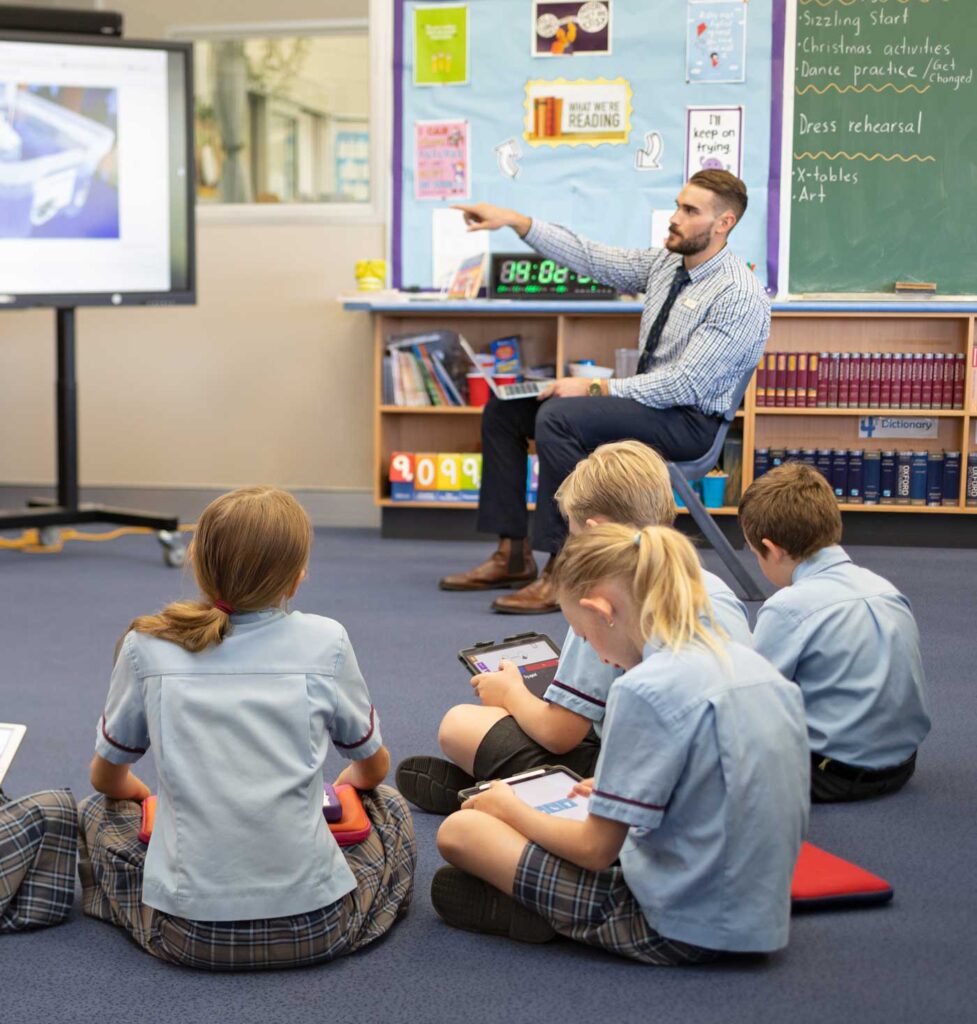 Years 1-6
Your child's love of learning continues to grow with the essential foundations of literacy and numeracy strongly embedded in daily classroom practices. The School sets high standards in literacy and numeracy and the students are nurtured to reach their potential in a supportive caring environment.
As students make the transition into Senior Schooling they have strong foundations for learning, established friendships and a sense of belonging within the Caloundra City Private School community.
Junior School Facilities & Curriculum
At Caloundra City Private School your child will have access to a number of impressive facilities and curricular activities that ensure learning is enjoyable and potential is achieved.
IT & technology – All junior school classrooms from Kindy to Year 6 have access to desktops and Ipads and support staff.
Airconditioned, bright, spacious classrooms with audio instructional solutions ensure that every word is heard and background noise minimised.
Our students are free and encouraged to explore within the safety of the campus.
Architecturally designed playgrounds, climbing wall, state of the art stadium.
Inclusive and engaging lunchtime games; giant outdoor chess, balancing equipment, sensory play items for development.
A focus on a seamless transition into senior school. Our purposeful, weekly interactions with the senior school help to establish familiarity with the high school and break down barriers.
A focus on well-being, we are proud to integrate well-being practices into our daily routines such as; daily gratitude, wellbeing monitoring, yoga, breathing exercises and reflection time.
Focus and flexibility for extra curriuclar activities, your child's talent and natural enthusiasms are well catered for and actively encouraged by the entire school.